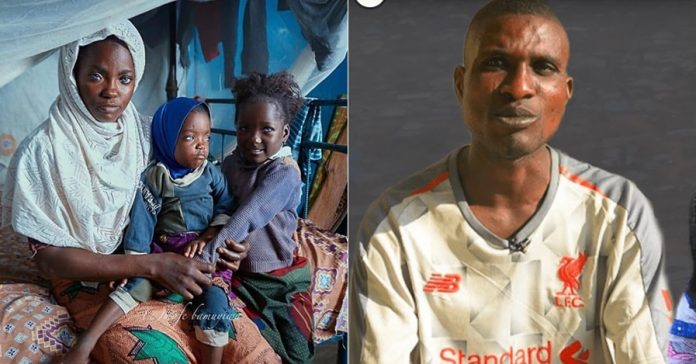 In the last couple of days, the photos of two blue-eyed kids and their gorgeous mother has been trending across various social media platforms. Their estranged father who reportedly left them due to the uniqueness of their eyes has finally come out to speak.
According to the father of the blue-eyed kids, he revealed that he never abandoned his family, instead, he left them due to the waywardness of their mother.
Mr Abdul-Wasiu Omo-Dada, the Nigerian man who was accused by his wife of abandoning her and their daughters because of their blue eyes, has finally spoken.
According to Dada in a recent interview with a correspondent, he never abandoned his family as insinuated by his wife and people who had supported her.
Dada who is a vulcanizer by profession told news correspondent that he had married his wife because of her special blue eyes, contrary to the rumoured reports. He alleged that his wife was not contented with all that he does in the house.
Dada lamented that photos of his wife and children were posted on Facebook to lie against him, to seek for public trust and as well beg for alms. He further explained that families of his wife have once sent him a delegate to warn him that Risikat must not go hungry.
Speaking during the interview.
Dada said; "It was because of her eyes that I fell in love with her and married her.
Her actions towards me, such as waywardness, and telling me that I'm not being good to her, those were the issues that caused our fight."
"The things that I have been doing that she denied, I have been providing for her and the children even to the knowledge of her parents but they were not satisfied, until they posted pictures of my children on Facebook, using them to beg for alms."
Watch the video below to hear the full story;