Following the extension of the lockdown announced by the Plateau State
 Government as part of the measures to curtail the spread of the pandemic
Coronavirus, Senator Hezekiah Dimka, a Senator
representing Plateau Central Senatorial District today donated palliatives to his
constituents in trying to cushion effects of the lockdown amidst the global
Covid19 pandemic.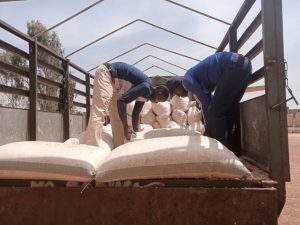 The Senator was represented by his Senior Legislative aide ND Shehu Kanam alongside other top aides. At national level Dimka sacrificed his monthly allowance and salary to support the Federal Government in the fight against the spread of Covid19 in the nation.
At the state Level,Senator Dimka donated items worth millions of naira to the state Government before the lockdown extension, Senator Dimka today carried out the official donation of items to his constituents.
Shehu said:
"We know the plight of the poor and the vulnerable, we have 500 bags of maize to be adequately distributed geared towards addressing the extension of the lock down on the Plateau. The representative of the Senator further stated that the palliatives is for the Poorest of the poor as
Government cannot afford to take care of every household. He will continue to lend his helping hands as we find a lasting way out of the Corona Virus Pandemic that has affected lives of people"
while receiving the items on behalf of the Chairman Of Mangu Local Government Engr. Lawrence Danat, Mr Sunday Yilkes, The secretary of the LGA says
"we will want to appreciates the distinguished Senator for having
concerns for his constituency at this disturbing time, He has shown to us that
he is a true representative of his people and We will continue to support his
efforts,
We will ensure that What he has brought is duly shared to the vulnerable".
The Zonal chairman of APC Morris gusam applauded efforts of the government, that Covid19 has not enter Plateau State as he appreciates the Senator On behalf of central zone, he advised that
"This materials is not for only the party but the people at this point in time, let's Keep the party aside and face reality" he stressed.