Nigerian Top Rapper, M.I Abaga, a.k.a The Guy commented on a post by a Jos based brand promoter, Hypeman, and Publicist, Hypeman Cliff Billz
Hypeman Cliff Billz, one of the fastest rising Brand Promoter, Hypeman and Publicist based in Jos couldn't keep calm when he noticed M.I's engagement on one of his recent post which was captured
PICTURE OF THE DAY!
Ice Prince
Jesse Jags
Hypeman Cliff Billz and
M.I
Immediately, M.I commented "I see what you did there bro"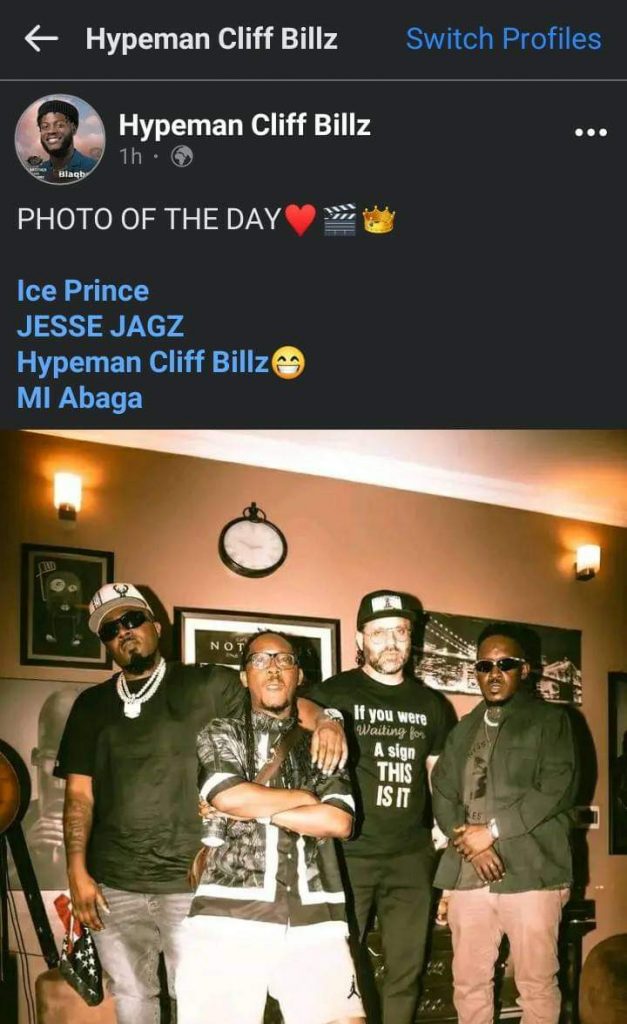 Well, this was a wow moment for the brand promoter who has put in more efforts, consistent in promoting and hyping every good thing coming out of Jos,
Hypeman Cliff Billz recon on his past experience when he started as a brand promoter and hypeman
"People be like "don't pay them to hype or promote you ", there are days I sobber because of such statement.
Today,it's proved that people sometimes want to bring me down even when I am doing better,this is true from my experiences.I didn't only get a new friend and follower,I got the best rapper in Africa on my post who replied via comment. you can see t, M.I Abaga
I thought of a good year with my works,already it's fulfilled.I just need to frame all captured replied for my family, no cap.
Such opportunities are rare,
This is GRACE!"