This year's event will feature music | Comedy | Discoveries | Networking | Business connect and lots more
*FOOD CULTURE*
A brand of
Brains Kitchen an affiliate of Brains Ijachi Foundation.
A brand specifically curved out to give you a taste of real culture, celebrate our great, tasty and wonderful delicacies and also contribute to Charity…
We are celebrating the South-East culture of Nigeria, predominantly and proudly the land of the Igbo people. *(Igbo kwenu)* Do you know that garri, abacha and Akpu are all call; Abacha 😊 hmmmm, do you know that the Onugbu leaf is medicinal and cures a lot of ailments???
*DO YOU KNOW THAT ABACHA?*
Abacha helps in strengthening bones. i.e. it makes bones strong as it contains large amounts of calcium. It is high in potassium, so it is very good for the heart and fights body cells diseases. Abacha also helps in weight loss.
100 g portion of Abacha and local salad contained 0.8 and 14.3 g crude protein, 0.5 and 13.6 g lipids, 0.7 and 3.2 g fibre, 0.7 and 6.7 g ash, yielded 358.3 and 430.4 kilocalories and can contribute 15.6 and 18.7% energy, 1.3 and 22.7% protein, 4.7 and 21.3% crude fibre, 13.3 and 51.3% iron, 13.9 and 30.3% phosphorus,
You ain't only coming to eat, you will be trailed by great musicians and comedians to give you a relaxation ambience.
*DO YOU KNOW THAT ONUGBU?*
Bitter leaf soup or ofe onugbu is another popular Nigerian soup made with bitter leaves and cocoyam paste. This delicious Nigerian soup is packed full of flavour, hearty and quite filling too. Ofe onugnu is similar to the Cameroun.
*Health benefits*
It relieves stomach ache, . It helps prevent prostate cancer, Lowers high blood pressure, It enhances fertility, It aids in weight loss, It detoxifies the body and lots more…
There is also great business connect, networking and good hook ups😄. If you wish to sell products, goods and services contact us early enough. (08166438898)
Get your tickets ASAP to avoid queuing up come 12th Feb. 2023 @ Odilins and decoration along Jay FM radio, adjacent Fox Hotel, time: 1.30pm red carpet.
Performance by: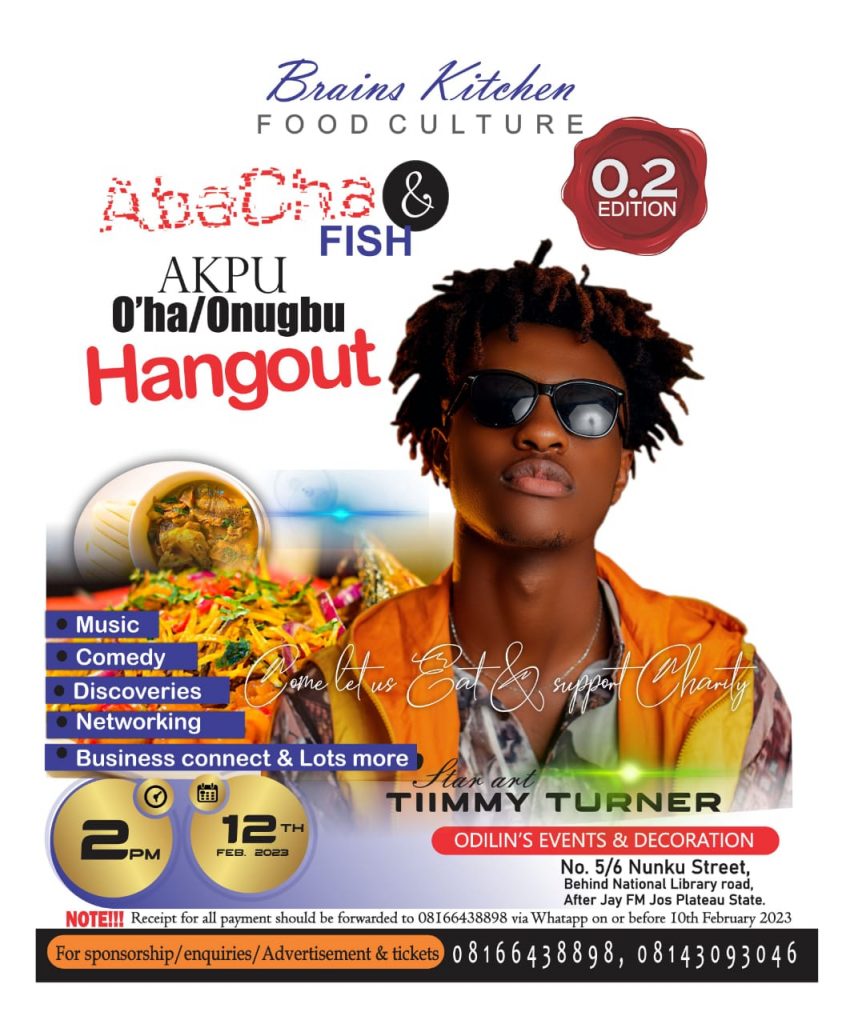 #Comeletuseatandsupportcharity#
#ComeletusblastanddecideNigeriabeforeelection#
#FOODCULTURE#