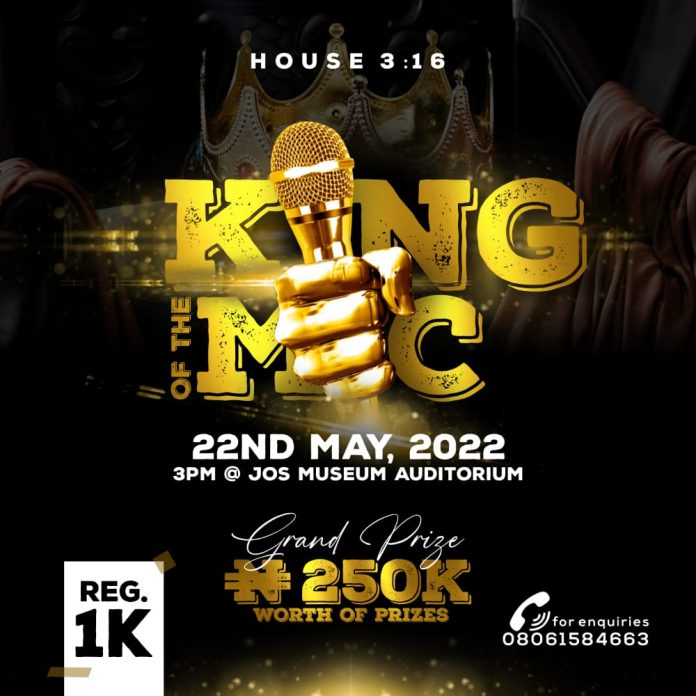 KING OF DA MIC is a Rap Battle Event that is Open to Every Rapper with Battle skills, Whoever Wins Emerges as The King Of DA Mic.
TERMS AND CONDITIONS
Contestant Must Be a Rapper
Lyrics must be Clean (No Vulgar Words/Language)
Contestant must Reside in Jos or Can come down to Jos For the battle.
Miming is NOT allowed, all performances must be done live with a sound track.
DATE : 22ND MAY 2022
VENUE : JOS MUSEUM HALL
CRITERIA FOR JUDGING
Lyrical Content
Lyrical Originality
Lyrical Clarity
Lyrical Creativity
Lyrical Flexibility
Stage Act/Maximization
Crowd Response
Mic Control
Appearance/Costume
STAGES FOR THE BATTLE:
General audition to be judged by a panel of judges
Critical stage to be judged by a panel of judges
Final Stage to be judged by the general audience
HOW TO REGISTER
Send " King Of DA Mic, Full Name, Stage Name, Location and Phone number to 08061584663 as text message.
REGISTRATION ENDS 20TH MAY
REGISTRATION FEE: N1,000 ONLY
SEND TO THE ACCOUNT BELOW
0155675431 UNION BANK
ISTIFANUS PANKYES
(Send a prove of payment as text to 08061584663)
PRICE TO BE WON
250k Worth Of Prices
5 Recording Sessions
A Music Video
2 Photo sessions
Promotion deal
Songs Art Design
FOR MORE INFORMATION/SPONSORSHIP/COLLABORATION/PARTNERSHIP CONTACT – 08061584663
POWERED BY: HOUSE 3:16