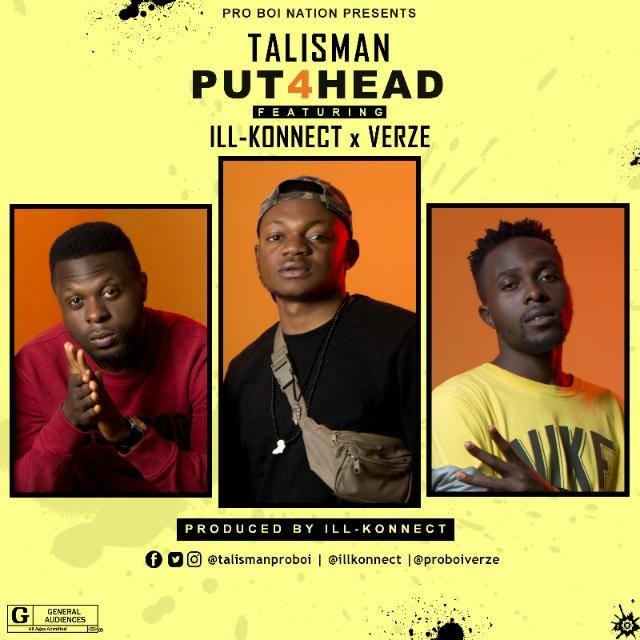 Man of the Year, Talisman a.k.a Mandela is here with the most anticipated song in northern Nigeria 2019.
Fresh from the success of his single "semina", he releases his latest tune titled "Put4Head".
Working with group mates Verze and hit-maker; Ill-Konnect, displays once again the raw talent from the Pro Boi Nation camp
as they serve thei fans a hot fresh vibe on this track.
However, I think the mad love shown to Talisman during the #Put4Head campaign
made him drop this Jam on his birthday (February 26th), happy birthday Mandela. Check it out and drop your thoughts!
DOWNLOAD MP3: Talisman – Put4Head ft Ill-Konnect x VerzE
Lyrics:
Intro:
Ill-Konnect on it
Caro
Talisman pon da record ay ya ya ya ya yah
Anytime way i linkup
You make wan spend the kalu
Its a pro boi thing!
Illiyana say
I no know wetin dey faru
Ekelebe ebelebe seperete baby chelete number one wonkerese
sisi oweskere kpekere x2
(Verse2 – Ill-Konnect):
Anita gan
Girl i like the way you dey wine'am goni
Wine it slowly
Go ahead and show me now
And if you dance
I go spray the money
Money
And if you dance
I go spray the raba
Eh yeh yeh
Juba di o Juba di
Gum body o Gum body
O gpami o
Ah
E be like shack pammi o
O pammi o
Ju badi o Ju badi
Gum body o Gum body
Ogpami o
Ah
E be like i shack pammi o
O pah!!!
Chorus:
Mama eh, mama e dey do me like I dey put 4 head
Mam eh mama ehs (X2)
Mamigo, I dey put am 4 your head oh yea yea yea yea
Awilo I say gyal yuh must scatter di dancefloor
Amigo, when them see us they must clear road
When them see us must Clear road oh oh
They must clear road yeah yeah
(Verse2 – Talisman):
TIA!!!
Mandela aii
Caro, you put this man for Claro
You make mi wan spend di kallu
I no know wetin dey faru eh ye eh ye
I don rise wallet, I don nack racket
I don buy market, my matter don set
Blow di trumpet para ra ra
Abegy come make I give you love
As you dey dance make I spray you money
All of my guys know wetin dey sup
No be today we begin the balling
I dey gbadun your jollof
I dey hope say you no go dull me
Elema elemama ye
Mama ele lelele
(Repeat chorus)
(Verse 3 – VerzE):
Yea
The call me
They call me VerzE
Gella hi me like choco
Better call me the popo
cause your body calling
Me I want to answer
Anywhere you go I go follow.
Girl your body na fire
and you set ah man a blaze
chai!!
when you work you no dey tire
Check the way she roll the waist
Oya baby make you put 4 head,
cause I love the way that you limpopo
Say make you put 4 head,
me I fit to show you d koko yea
Girl you gat the sweetest juice
Na you dey make ma heart beat eazi
like a song that was produced by juls
na you dey put me for cruise.
(repeat chorus)