Anambra State Governor, Willia Obiano has rewarded a woman captured in a viral video who rejected a bribe of N5000 during the recently concluded November 6 election in the state with the sum of N1 million.
The woman was identified Mrs. Eunice Ngozi Onuegbusi.
Mrs. Onuegbusi, who hails from Amagu Village, had gone to cast her vote in Ward 1, polling unit 04 in Dunukofia local council of the state when she was approached by a party agent who offered her the sum of N5,000 to vote for his candidate.
In the video which had immediately gone viral; Madam Eunice was seen rejecting the N5,000 naira offered her by the party agent. Further, she had insisted on voting for the All Progressives Grand Alliance (APGA).
While commending the woman during a church service where he announced the cash reward; Obiano described her action as a sign of hope in a better Anambra.
"Madam Eunice knew that though money could buy her temporary relief; Anambra would be a better place if she voted according to her conscience."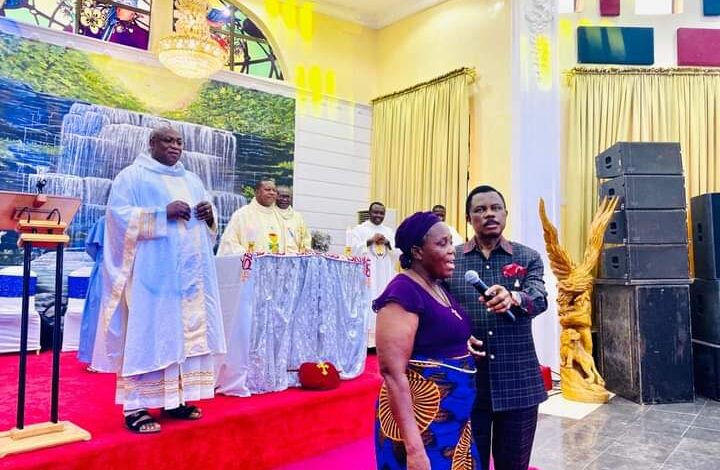 Additionally, he hailed the people of Anambra, even as he dedicated the victory of APGA to them.
''Our victory belongs to our loyal party men and women who resisted temptations of financial inducement from rival parties to fight under the banner of APGA, because they knew that victory for APGA is a victory for the ordinary citizens of our dear state.
"And finally, it belongs to Ndi Anambra at home and in the Diaspora who stood behind APGA; not because we have met all the expectations of our people but because even in the foundation my team and I have laid so far; they see enough sunlight to believe that Anambra state is like the sun which is bound to rise, against all odds.''
In other news, a man has been arrested by the Police in Enugu for allegedly killing his seven-year-old son for rituals.
The man was identified as Chidi Onyishi.
Reacting to the incident, Gov. Ifeanyi Ugwunyi of Enugu State has assured the mother of the slain seven-year-old boy of justice and government care. Ugwuanyi made the pledge through a delegation that visited the mother of the slain boy, Mrs. Augustina Onyishi in her residence in Enugu on Friday.