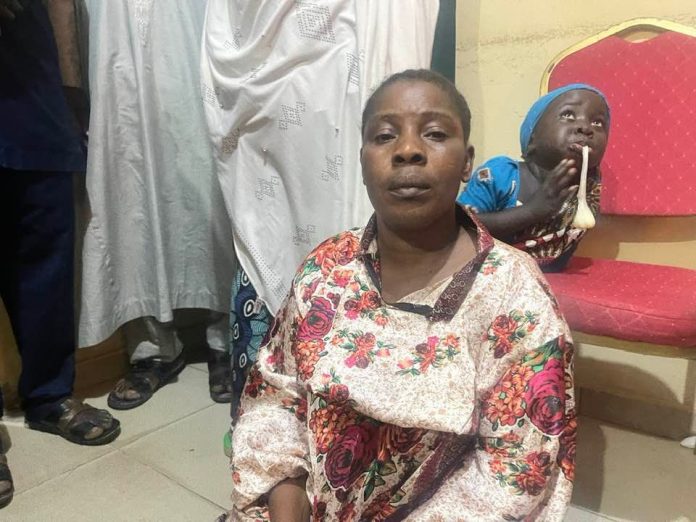 A woman has been arrested in Borno for abducting three children.
Police officers in Borno State have detained Nsa Heneswa, who is thought to be a child trafficker. She was taken into custody in Maiduguri, the state's capital, on suspicion of kidnapping three kids.
On August 4, 2022, the suspect was apprehended at the Borno Express Motor Park as she attempted to flee with the three little children, who were all under the age of seven.
Abdu Umar, the state's commissioner of police, told the News Agency of Nigeria that the suspect landed in Maiduguri. Then, she proceeded right to the Monday market where she observed the kids begging on the street and kidnapped them.
The suspect called one of the children and offered him N200. Then she asked him to come with her so she could buy him some clothes.
After that, she went back to the town in search of another victim. She got to Yan' Nono in the Bulumkutu area where she abducted another child belonging to Amina Ayuba, a local fresh milk vendor.
"When she arrived the motor park, she requested for a vehicle that was going to Lagos; but members of the union told her it was already late. She then begged for a place to stay before the next day. Again, she went out and picked the third child, making three of them." Umar said.
It was alleged that luck had ran out of the culprit when she decided to take one of the kids to a local restaurant when he said he was hungry on Friday morning.
"A commercial driver operating on the Abuja line at the motor park began to ask him questions on how he knew the woman. Then he confessed that she took him from Monday market, " the CP further said.
According to Umar, the security and surveillance team at the vehicle park apprehended the woman and gave her to the police for further investigation after seeing the lady's suspicious demeanor in her response.
He claimed that the woman admitted to hand-picking the kids and having plans to take them to Lagos.
Before the long arm of the law caught up with her last weekend, the suspect and her alleged accomplices, according to Umar, were allegedly engaged in the buying and selling of children.
She claimed that she received N500,000 for the task while under arrest. When questioned about what she planned to do with the kids, Heneswa replied that she was taking them to "Lady B" in Victoria Island, Lagos, who had agreed to pay the amount upon receiving the kids.
"Honestly, this was my first time of doing this. I have never done this before. A woman in Lagos introduced me to this. I also have a nurse who was assisting me in the Maiduguri Specialist Hospital," she said.
The investigation, according to the police commissioner, is still ongoing.