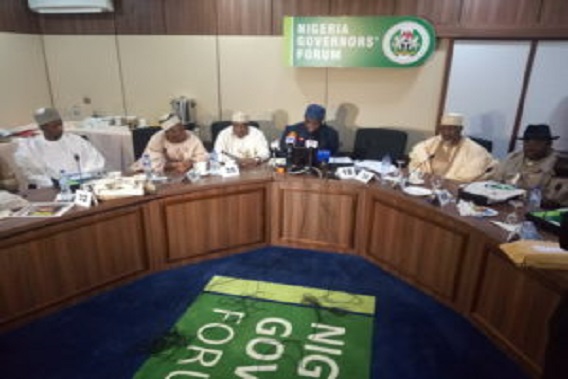 The 36 state governors under the aegis of the Nigeria Governors' Forum (NGF) are to meet on Wednesday, August 17, 2022.
The governors are meeting in Abuja to discuss issues of economy, insecurity, and other challenges confronting the nation.
Mr. Abdulrazaque Bello-Barkindo, Director, Media, and Public Affairs, NGF, disclosed this in a statement on Tuesday.
He said the state of the economy ‪will dominate the conversation when the 36 governors meet. The meeting is scheduled to hold at the Banquet Hall of the Presidential Villa in Abuja.‬
"Worried by the economic woes that the citizenry has been complaining about and the hardship associated with it; several governors reasoned that it is high time to tell each other the bare truth; by confronting each other on the situation and brainstorming on it.
"This formed the basis for resorting to an in-person meeting which since the outbreak of the COVID-19 pandemic has been relegated by the states' executives.
"Two things will feature prominently in the conversation: the economy and security."
He dismissed as spurious recent media reports that the governors had collectively advised the president to compulsorily retire civil servants aged 50 and above.
According to him, the meeting will be the first to be held collectively by the governors on the nation's economy in 2022.
Bello-Barkindo said that the governors would launch the Primary Health Care Leadership Challenge Fund; as well as the World Bank SFTAS charter before going into the meeting, expected to commence by 2pm.
He added that the governors would receive updates on the COVID-19 Action Recovery and Economic Stimulus programme during the meeting.
Meanwhile, Governor of Zamfara, Bello Matawalle, has ordered the Task Force on Security to conduct house-to-house searches across the 19 emirates of the state to flush out criminal elements.
Matawalle issued a directive to the residents of Zamfara in a broadcast in the early hours of Tuesday in Gusau. Prior to the broadcast, there was an extended Security Council meeting that lasted more than eight hours.
The governor also stated that the action was taken as part of an attempt to maintain calm and restore law and order in the state.
Furthermore, he advised the emirs present at the council meeting to exercise caution; urging them to alert security personnel to any unusual activity or suspicious people in their territories.
Matawalle also issued restrictions on motorcycle mobility in the areas near Gusau, from 9PM till dawn.
Any motorbike rider who disobeyed the order and refused to stop at security checkpoints within the impacted zones was to be shot at sight; according to his directive to the security services.
He claims that the action was taken in response to reports that bandits; as well as other criminals were using motorcycles in the state capital and its surroundings to carry out illegal activities.
The governor also instructed hotel owners to check each guest's identification before allowing them to stay.